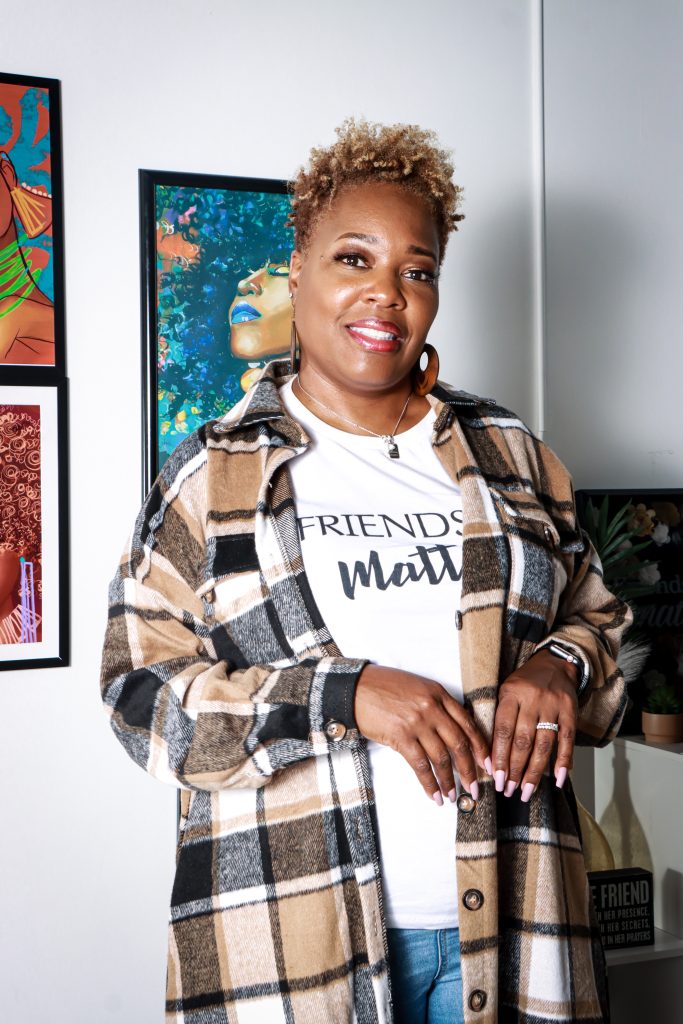 Rona D. Drinkard (Rona D.), is a self-published award-winning author who manages a team of project managers by day and is a writer by night. She holds a Bachelors degree from Daemen College and Masters Degree from SUNY Buffalo State University.
Rona was inspired to write a book after relocating to Maryland with her daughter. She missed her Buffalo family and friends, and writing became a way for her to maintain the connection to those she loved along with the city's rich culture. Out of that came her debut novel, Friendship Matters. Although she finished writing the novel in 2005, she did not publish until February 5, 2022. Since it's release, Rona has won a total of 13 awards and received the BREW Seal of Excellence by The Chrysalis BREW Project. Equally notable, they also selected Friendship Matters as one of the "6 Best Books to Read on International Women's Day" in 2022. Rona D. is very proud to acknowledge that she shared the list with authors such as Michelle Obama.
Rona D. has been featured in Buffalo Newspapers and in several magazines which include Rolling Out, The World's Best, and Sheen Magazine to name a few.
Shortly after publishing her debut novel, Rona returned to her hometown of Buffalo on April 30th for an Author Talk and Social Event and was greeted by an enthusiastic audience, many of whom were raving about the book. She was further honored by Buffalo's Mayor and the Erie County Executive who both proclaimed April 30th as "Rona D. Drinkard Day." Additionally, Rona D. received multiple declarations and recognition from New York State Senator, Erie County Legislators, and Buffalo Common Council Members.
In 2017, as a Buffalo, NY native, she was the second recipient to receive the "Homecoming Black Achievers Award," which highlights the accomplishments and excellence of Buffalonians.
Currently, author Rona D. is writing her highly anticipated sequel to Friendship Matters. Outside of reading and writing, she loves coffee (Tim Horton's), wine (newly acquired taste), event planning (nicknamed "team too much"), singing (RBC 4 Life), traveling (as often as possible), socializing (loves to host and attend), and creating (addicted to her Cricut machine). Additionally, Rona enjoys watching tennis, boxing, basketball, and football (proud Buffalo Bills fan) with her husband (a NY Giants fan). You can just imagine the atmosphere in the Drinkard's home when these two teams meet.
She resides in Maryland with her husband, Haashim, daughter Nylah and granddaughter Layla.
See what reviewers are saying...
"Friendship Matters" by Rona D. Drinkard is not only women's fiction but an honest description of the female experience of African-American women. The voice of these women is still sorely underrepresented in literature, and with her book, Rona D. Drinkard makes a great service to all of us.:
"Rona D. Drinkard has a relaxed writing style that is so casual that you may forget you're actively reading a book. This dramatic rom-com is refreshingly free of pretension, affectation and needless self-reflection. Instead, readers are dropped right into the non-stop locomotion of these busy women."
"Rona D. Drinkard had me laughing along with and rooting for this tight-knit group of friends, each with their own inimitable personality. Friendship Matters will make you feel like you're right there, and you won't want to leave."
Subscribe to our mailing list!